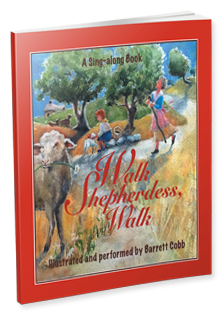 Paperback (Perfectbound) / ISBN: 9781457548949 / 32 pages
Hardcover (No DJ) / ISBN: 9781457551802 / 32 pages
About the Book
Join the Shepherdess and her young friend for a walk through the countryside in search of three special sheep. At the end of the day, the true significance of their quest is revealed.
Walk Shepherdess, Walk features several elements: the story, the music, and the artwork. The musical arrangement, which Ms. Cobb wrote and performs on flute, voice, and piano, can be downloaded below. The musical notation for the song can also be found in the book. The body of the book is comprised of twelve pairs of watercolors, each of which illustrates a phrase of the song. The words appear superimposed onto the paintings.
A short story, A Lamb's Tale, tells more about the small lamb whose story can also, upon close examination, be found in the paintings. A Lamb's Tale handles the themes of love, jealousy, and forgiveness.
Excerpt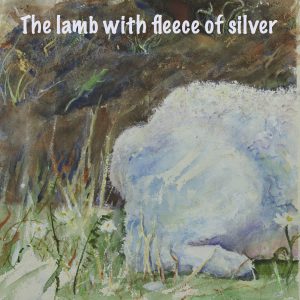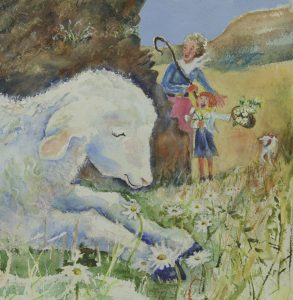 Downloads
"Walk Shepherdess, Walk" (mp3)
an American folk song
arranged and performed on voice, flute, and piano
by Barrett Cobb
A Lamb's Tale (pdf)
a short story
by Barrett Cobb
Praise
"Lush, impressionistic watercolor landscapes illustrate each line of the simple 1916 song by Eleanor Farjeon. … Cobb's companion recording, with soaring operatic vocals backed by a gentle flute and piano arrangement, fully evokes the innocence and serenity of this rustic tale."
— Kirkus Reviews
"Twelve gorgeous watercolor paintings perfectly parallel the story… Barrett Cobb is a painter, singer, flutist and now a visual storyteller turning a childhood folk song into an enchanting life lesson for everyone."
— BestSellersWorld.com
"The mixed mediums are sure to inspire young and old alike as they fold over one another, creating a seamless, joyful experience for the reader. … Illustrated by Cobb in watercolor, the images come alive in vivid detail and flights of fanciful delight. In a timeless style, each picture captures the essence of the song and story, lending movement and grace to the words. … Cobb has created a wonderful world built on a classic tale that will bring readers back over and over again."
— The US Review of Books
"The best part of this book is the recording by the author of this book. You have to check out this book."
— Cheryl's Book Nook.com
"Never in my experience as a reviewer did I ever expect to be able to review something with so many aspects to it. Books are full of text and children's books have added illustrations to check out, but Walk Shepherdess, Walk by Barrett Cobb seems to put them all to shame… it's inspiring."
— OnlineBookClub.org Official Review