LUST & LA FEMME MYSTIQUE: CARMINA BURANA AND MUSIC IN CELEBRATION OF INTERNATIONAL WOMEN'S DAY
DISTINGUISHED CONCERTS ORCHESTRA, DISTINGUISHED CONCERTS SINGERS INTERNATIONAL
HILARY APFELSTADT, CONDUCTOR; VANCE GEORGE, CONDUCTOR LAUREATE
PENELOPE SHUMATE, SOPRANO; DILLON MCCARTNEY; TENOR; KEITH HARRIS, BARITONE
AVERY FISHER HALL, LINCOLN CENTER; NEW YORK, NY
MARCH 10, 2014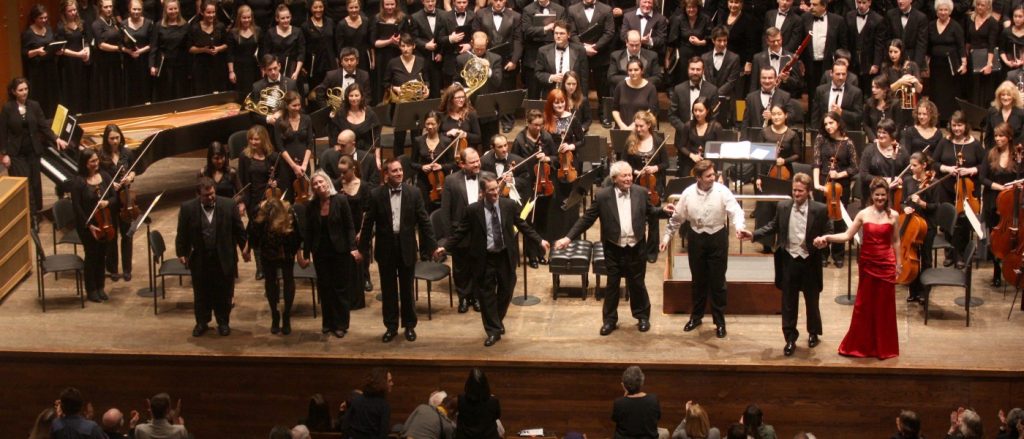 International Women's Day was celebrated by Distinguished Concerts International New York (DCINY) with a concert in Avery Fisher Hall employing four hundred sixty-nine choral singers, sixty-three instrumentalists, and three vocal soloists. The first half was a pleasing selection of contemporary pieces for and about women sung by the combined forces of ten choirs from all over the world. And what fine choirs they were! Beautiful sounds, with excellent diction, and near perfect intonation. Clearly these women and their conductors were dedicated to this music, and the music was worthy of their labors. The first piece was Guy Forbes' gorgeous Ave Maria. Written for a cappella women's chorus, this piece should become a classic. It is immediately accessible without being in any way predictable or saccharine. It was followed by another lovely song praising the Virgin Mary, Eleanor Daley's I Sing of a Maiden, also an a cappella composition. Like all the music on the first half, it was tonal but contained interesting harmonic twists and turns. For the next two songs we were transported south of the border. The Brazilian composer Eduardo Lakschevitz's jaunty Travessura was followed by Cancion de los Tsáchilas which is a compilation of four folk songs, cleverly arranged by Michael Sample. The energetic performances of these two works were, unfortunately marred by the loud footsteps of a very large group of audience members who incomprehensibly were allowed to enter while the music was going on. A violin and a cello joined the singers and pianist for two pieces depicting women in moments of reflection, Joan Szymko's Always Coming Home and Jocelyn Hagen's In the Lavender Stillness of Dawn. Nancy Telfer's The Blue Eye of God employed breath sounds and whispers. Joy by John Muehleisen brought the first half to a happy conclusion. The ten choir directors are to be applauded for their fine work in preparing their choirs, and kudos to conductor Hilary Apfelstadt for pulling it all together in what must have been a short rehearsal time.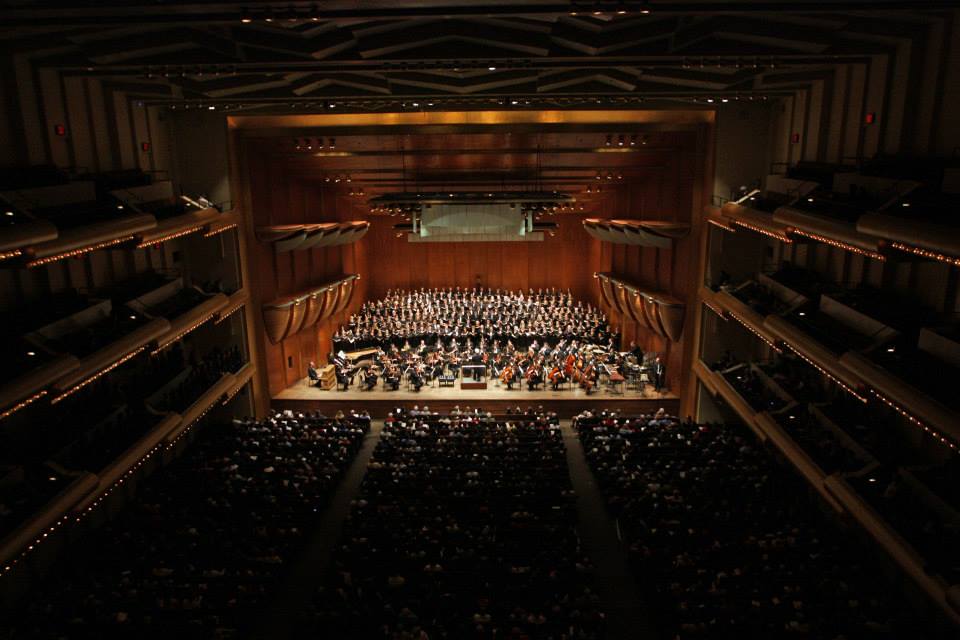 The second half was devoted to one of the biggest crowd-pleasers in the choral repertoire, Carl Orff's Carmina Burana. Once more the large chorus was the star. It was comprised of two hundred seventy-two singers from seven international choruses, none of whom sang on the first half. The biggest challenge in singing this music is learning the words, which are in Latin and an ancient form of German, and which often must be articulated in rapid fire manner. It takes hours of drill. It was obvious that these choruses and their directors had done their job well. They performed with commitment, confidence, tonal beauty and fine intonation. The large group was alternatively sensitive and powerful. The difficult men's sextet "Si, Puer cum Puella," written for solo voices, was wisely performed by all the men. This resolved the intonation and tessitura problems so often encountered in this piece. The women sang the lovely, tender middle section of "Floret silva nobilis" with delicacy and perfect ensemble. I was especially impressed by the splendid Brooklyn Youth Chorus. They sang as one, in perfect tune with beautiful sound. Undaunted by language difficulties, they performed by memory. How wonderful it is to hear the young people of our city demonstrate such musical accomplishment! Their conductor, Dianne Berkun, is surely one of our city's treasures.
Unfortunately the soloists did not attain the high level set by the choruses. Baritone Keith Harris has a very beautiful voice, but often it wasn't loud enough to cut through the orchestra. He also tended to sing flat in the soft passages. Soprano Penelope Shumate looked stunning in her strapless red gown as she sauntered provocatively across the stage. However, her high soprano voice was not ideally suited for "In Trutina." This beautiful, simple, expressive song lies in the low register where her voice isn't at its best. She was better suited for the high "Dulcissime," where her tones rang out loud and clear. Before the concert began an announcement was made that the tenor soloist was sick but would nevertheless do his best. As New York City is full of singers, one would think that a healthy high tenor could have been found to serve as his replacement. Fortunately he has only one song, "Cignus ustus cantat" ("The roast swan") He attempted to compensate for his vocal problems by hamming it up, pretending to conduct, and interacting with the chorus, When his singing voice gave out, he spoke his lines. He did manage to get out a few notes which showed what a lovely instrument is at his disposal on a better day. The forgiving audience applauded his effort.
The conductor, George Vance, held his huge forces together admirably, and the orchestra supported the singers with conviction and fine ensemble. This was a well-paced and exciting performance, which the large audience obviously loved. They leapt to their feet as soon as the lasts notes of the final "O Fortuna" had finished resounding.
Written by Barrett Cobb for New York Concert Review.